One of my roles at work is to compile a newsletter for our client's clients. One of the sections is a feature on a children's book. The client sends us photographs of a child holding the featured book, but due to privacy issues surrounding children and photographs of them, they have to obscure the face of the child. Which, frankly, looks really creepy.
But that's not the only thing. Have you read a children's book lately? This week's feature was about a family who just couldn't get things right. The pregnant mom ended up delivering her baby at the zoo and accidentally took home a baby alligator... instead of her newborn infant. It takes the family a little while to figure out that things just aren't right. So they return to the zoo to switch out babies. But this time... they bring home a baby seal. Meanwhile their human infant is being raised by a gorilla. So how does the story end? The daughter they already had--Caroline or something--is the one who goes to the zoo to bring home her baby brother.
What sort of message is this sending to our children?
Last week's story was about a bunch of baby goats who got swallowed up whole by a bear except for one who hid under the bed and watched the whole thing. According to our client, the children really loved the part where the mother goat returned home and cut open the bear's stomach with scissors.
What sort of message is this sending to our children?
I found all of this a little unsettling.
And then I started thinking about all the stories I grew up on.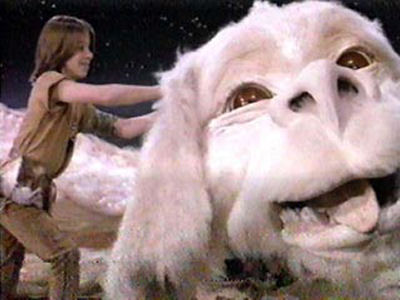 And I turned out just fine!